SDM Shakar Chiktan inaugurates 5-day Ice Hockey Tournament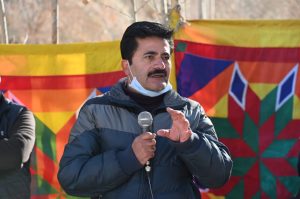 KARGIL, DECEMBER, 24, 2021: Sub Divisional Magistrate Shakar Chiktan Muhammad Shareef Kakpori today inaugurated a five-day Ice Hockey Tournament at Ice Hockey Rink Zgang Chiktan.
The tournament was organized by UK Zgang in collaboration with Smart Sports Association Chiktan. Sarpanch Chiktan Kacho Liyaqat Ali Khan, ice hockey players and a large number of sports enthusiasts were present at the inaugural ceremony.
Speaking on the occasion, SDM Kakpori expressed gratitude over the participation of a large number of youths across Shakar Chiktan in the ice hockey tournaments and congratulated the organizers.
He assured that the sub-divisional administration will provide the best possible facilities to the teams from Shakar Chiktan who will participate in the upcoming district and UT level tournament.
Meanwhile, the inaugural match was played between UK Zgang and Wakha Club, which was won by UK Zgang by 10 goals. Nine teams hailing from different areas participated in the tournament.