SDM Shakar Chiktan holds meeting ahead of Yoga Day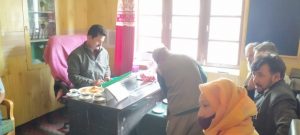 KARGIL, JUNE 17, 2022: Sub Divisional Magistrate Shakar Chiktan Mohd Sharif today held a meeting in his office Chamber to finalize the arrangements ahead of the 8th International Yoga Day celebrations.
During the meeting, it was decided that the venue of the program shall be in the premises of Government Higher Secondary School Chiktan and timing of the event shall be 7 a.m.
In the event, about 50 individuals will participate including the officers of the subdivision, BDC Shakar Chiktan, students and PRI members.
A similar meeting shall be held on June 18 at Tehsil Shargole under the chairmanship of Tehsildar Shargole to finalize the arrangements for Yoga day at the tehsil level.
International Yoga Day is celebrated on June 21 every year to celebrate the physical and spiritual powers that yoga has brought to the world. The world will celebrate the 8th International Yoga Day this year.