SDM Nubra visits Khalsar village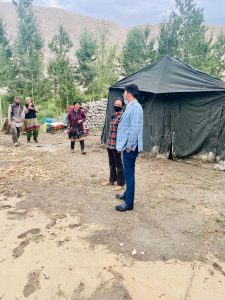 Leh, July 30: Sub-Divisional Magistrate (SDM), Nubra, Lakshay Singhal, today visited Khalsar village to assess the damage caused to residential houses by the recent heavy rainfall in the village. Tehsildar, Diskit, accompanied the SDM on the visit.
SDM Nubra impressed on the officials of Irrigation and Flood Control Department to immediately start the restoration work at irrigation khul of Upper Khalsar village.