SDM Nubra visits flood-affected areas in the sub-division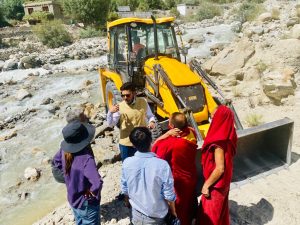 Leh, July 27: The Sub-Divisional Magistrate, Nubra, Lakshay Singhal today visited the flood-affected areas, such as Tsati, Tirith, Sumoor and Murgi.
SDM Lakshay inspected the head works of canals and khuls of the flood-affected areas along with the concerned department officials. He impressed upon the concerned officials to initiate restoration work at the flood damaged areas in an exigent manner.