SDM Nubra holds meeting regarding anti-encroachment drive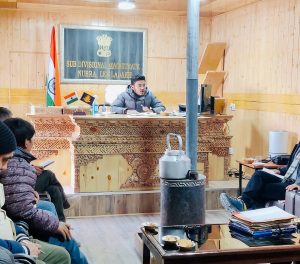 Leh, February, 12: On the directions of Deputy Commissioner, Leh, a meeting regarding the anti-encroachment drive was chaired by SDM Nubra, Lakshay Singhal today.
He directed to intensify field visits by all the revenue staff and said that a roaster will be issued soon in this regard.
SDM, Nubra also asked the concerned officials to update the land records and asked for an infrastructure audit to check the land allotment to other departments.
Further, he asked to delete the fake record entries and emphasised on liasioning with the police for strict enforcement of Anti Encroachment drives.
Additionally, he informed that three sub-divisional squads have been formed in Diskit, Sumoor and Turtuk.
He further said that submitting proposals for machines and goods is required for onward submission and allotment of funds. He also asked to create a land bank with immediate effect.
SDM, Nubra stressed on rationalisation of land allotment to keep a check on the quantity of land allotted. He informed that land lying vacant to be resumed in favour of the revenue department's land bank to prevent scarcity of land.
Further, he added that strict action will be taken against staff who leak official information in the public domain.