SDM Kharu addresses concerns of monks of Hemis Monastery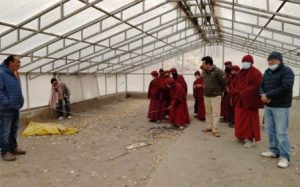 Leh, April 2: Sub-Divisional Magistrate (SDM), Kharu, AG Zargar along with Block Development Officer (BDO) and Tehsildar of Kharu block, visited Hemis and took stock of the demands of the monks of Hemis Monastery. Manager, Hemis Monastery, requested lift irrigation facilities at the Naro Photang to cultivate the area, water supply and restoration of handpump at Hemis Monastery, and construction of bathroom/latrine for the Shambonath School at Hemis.
SDM Kharu instructed concerned officers to prepare a detailed project report (DPR) for lift irrigation and estimate the cost for the toilet, water supply and submersible pumps. He assured the monks to look into their matter.