SDM Khaltsi tours villages in Sham area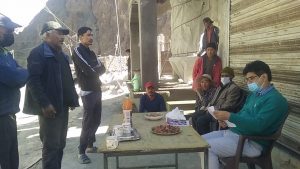 Leh, Oct 09: Sub-Divisional Magistrate (SDM), Khaltsi, Suhail Ahmad, today visited villages in Sham area such as Hanu Gongma and Yokma, Hanu Thang, Achinathang Gongma and Yokma during his tour.
SDM Khaltsi held public meetings with the village representatives and the villagers to assess their issues. He gave a patient hearing to the grievances and demands of the road, electricity, bunds or embankments on rivers, irrigation khuls among others.
SDM Khaltsi assured to take up their issues with the concerned departments and resolve them at the earliest.