SDM Khaltsi directs to set up Covid Care Centre in every panchayat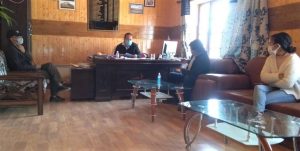 Leh, May 20: Sub-Divisional Magistrate (SDM), Khaltsi, Tanveer Ahmad, today convened a meeting to set up Covid Care Centre (CCC) in each panchayat of Khaltsi sub-division.
SDM Khaltsi directed the Surveillance Officer, BDOs, officials from AEE, PHE and PDD to turn Community Halls into Covid Care Centre with a minimum of five beds per panchayat for patients without proper isolation facility at home.
He also directed all the concerned officials to link each CCC with the nearest Primary Health Centre (PHC)/Sub-Centre to monitor the patients. He impressed upon them to visit all these places and make all arrangements in coordination with the BDOs/PHE/PDD/Health Department.
AEE PWD Khaltsi, Manzoor Hussain; BDO Khaltsi, Varinder Bawa; AEO Khaltsi, Kunzang Dolma; Junior Engineer, PDD Khaltsi, Kunchok; BO Sheep Khaltsi, Phuntsog Tashi and CHC Khaltsi, Tsewang Nurboo, were present in the meeting.