SDM Khaltse directs all employees to undergo Covid-19 testing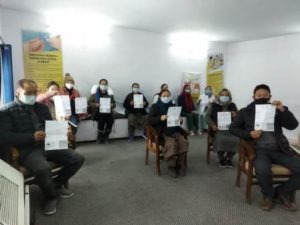 Leh, Jan10: In view of the recent spike in Covid-19 cases in the Leh district, Sub Divisional Magistrate (SDM) Khaltse, Suhail Ahmad had directed the Block Medical Officer, Khaltse to collect COVID-19 samples from all the Employees/Outsourced/Daily wagers working in the various departments at sub-division.
The sample collection was scheduled in two phases. The paramedical staff of Community Health Centre (CHC) Khaltse collected COVID-19 samples from 50 percent of government employees in the first phase on January 8 and the rest of the samples were collected today.
SDM Khaltse also directed all the employees of sub-division Khaltse to undergo mandatory COVID Sampling at CHC Khaltse.
Additionally, booster doses for healthcare, frontline workers and 60+ commenced in the Khaltse sub-division