Schools re-open in Leh post-Covid pandemic CEC attends 'Back to School' program at Wanla, Khaltse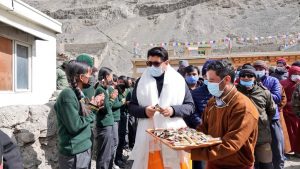 Leh, Mar 07: Since the District Administration Leh has decided to re-open schools after a long period of shutting down due to the Covid-19 pandemic, welcome programmes to the students with the theme 'Back to School' have been organised across the district today. The Chairman/CEC, LAHDC Leh, Adv. Tashi Gyalson visited Govt. High School, Wanla and Govt. Higher Secondary School, Khaltse where he attended the welcome ceremony organised for the students and teachers.
CEC Gyalson congratulated students, teachers and parents for the re-opening of schools after two years of the Covid pandemic period. While addressing the gathering, he stated that Hill Council, UT Administration made its best efforts during the pandemic in assisting the students by organising community classes and suitable schemes like providing educational tablets for free accessible education to all. He urges students to study well and also requested the teachers and the parents to help the school administration in covering up the issues faced during the pandemic period. He further instructed the authorities to constitute School Management Committee to look after the welfare of the students, and teachers.
Similarly, BDC Chairperson, Singay Lalok & BDO Khaltse/Singay Lalok also congratulated the students and appreciated the cooperation from the students and villagers in properly maintaining SOPs laid down by the Administration during the pandemic period.
Welcoming the students, Principal/Head Masters of the schools requested concerned parents and the govt. officials to assist them in regaining the momentum of the academic sessions post-Covid. They also informed the gathering of various meritorious achievements in academics and other activities by the students during the pandemic.
CEC Tashi Gyalson also handed over LED TVs to the hostels of the residential Govt. High School, Wanla and Higher Secondary School, Khaltse which have been procured and distributed under the CEC Discretionary Grant.
The villagers and the school administration raised various grievances with regards to the school's infrastructural issues and required modern-day facilities. Taking note of the issues, CEC Gyalson assured them to address all the grievances at the earliest possible.
SDM Khaltse, BDC Singay Lalok, Tehsildar Khaltse, BDO Khaltse/Singay Lalok, Principal/Headmaster, teachers, students and the village representatives led by Sarpanches, Nambardar and Chairperson VEC were present during the occasion.
On the occasion of the 'Back to School' program, Executive Councillors and the Councillors of LAHDC Leh also attended the welcome programmes at various schools in their respective constituencies.