School Education Dept organises PFMS capacity building training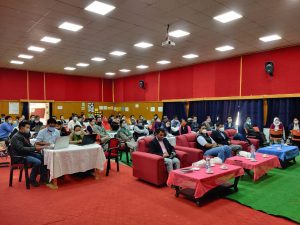 Leh, Sept 21: A two-day training/handholding programme for the complete rollout of EAT (Expenditure, Advance and Transfer) and DBT (Direct Benefit Transfer) Modules of PFMS (Public Financial Management System) started at PARAS Hall, Boys Higher Secondary School Leh. It was organised by the School Education Department, Ladakh in collaboration with the State Directorate, PFMS, UT Ladakh.
The School Education Department has one of the largest numbers of PFMS users in UT Administration. The training programme was organised to familiarise the user agencies with various modules of PFMS and to overcome the difficulties and build capacity among the Drawing and Disbursing Officers (DDOs) and dealing assistants.
Director, School Education, UT Ladakh expressed his gratitude to the team from State Directorate, PFMS, UT Ladakh for imparting such training and urged the participants to get the maximum benefits of the training. He also informed that a similar training would be organised for the School Education Department of Kargil .
Accounts Officer, PFMS, Punchok Wangchuk and his team imparted the training with a live demonstration on the PFMS portal.
Principals/Headmasters of various Higher Secondary/High Schools and Zonal Education Officers and their dealing assistants attended the training programme. The participants were divided into batches for the training following the Covid-19 protocols.