Reviews implementation of Digital India Land Records Modernisation Programme in Ladakh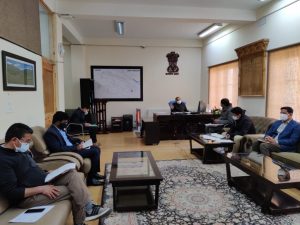 Leh, May 18: Principal Secretary, Dr. Pawan Kotwal chaired a meeting of Revenue Department's SDP Plan 2021-22 to discuss the ongoing and new plan today at the UT Secretariat. The meeting was also attended by Divisional Commissioner, Ladakh, Saugat Biswas.
The meeting also reviewed progress on the Digital India Land Records Modernisation Programme (DILRMP) including the Swamitva Survey of property in abadi deh area and the survey/resurvey of the land in all the revenue villages of Ladakh.
Principal Secretary, Dr. Pawan stressed upon the officers that all mechanisms of digitisation of land records shall be followed as per the Centre's norms.
During the meeting, Dr Kotwal said that the main aim of DILRMP is to usher in a system of updated land records, automated and automatic mutation, integration between textual and spatial records, inter-connectivity between revenue and registration, to replace the present deeds registration and presumptive title system with that of conclusive titling with title guarantee and its integration with the Sub-Registrar offices which also need to be computerised so that updation of land record could be done automatically and dynamically.
Discussion was also held on the constitution of PMU (Programme Management Unit) in Ladakh under DILRMP.
Giving details of the project, DC, Kargil informed that 99.5 % of scanning is completed in Kargil. Similarly, in Leh, it was informed that 100% scanning is completed. Further, it was informed that there are 238 revenue villages in Ladakh, out of which 127 are in Kargil and 111 are in Leh.
He directed the ACRs to finish the updation of Jamabandhi as on August 2020 within one month i.e by June, 15 2021 positively.
The meeting was informed that updation of Jamabandies and their digitisation is urgently required for the survey/re-survey to be taken up in the UT in order to generate geo reference maps of all the land parcels /Khasra Nos. in all the 238 villages of the UT of Ladakh with a very high accuracy of 5 cms on ground by using the latest Continuously Operating Reference System (CORS) technology.
Dr. Pawan also added that the work of digitisation of Jamabandies of both the districts should be with the usage of CORS network-based technology.
He further directed the concerned officials to submit the prototype design of the SDM office/Resident/Tehsildar office/Residence and Patwar Khana with residence soon and added that while designing the building special focus should be given to heating arrangement and water piping. He added that it should be winter-friendly.
DC/CEO LAHDC, Leh along with the ADC & ACR Leh; DC/CEO LAHDC, Kargil along with the ADC & ACR Kargil and other concerned officers attended the meeting.