Review meeting of JJM for Kargil block held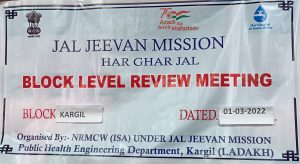 KARGIL, MARCH 01, 2021: Implementing Support Agency (ISA), NRMCW in collaboration with Public Health Engineering (PHE) Department, Kargil today organized a block-level review meeting of Jal Jeevan Mission (JJM) at conference hall Baroo to discuss the implementation of the scheme.
Councilor Baroo-Minji Constituency, Sheikh Ghulam Mehdi, AEE PHE Kargil, Furman Ali, AEE Rafiq Ahmed, District team leader (PMU) Dhananjay Singh, representatives of the ISA, Sarpanchs, Panchs, Village Working Committee (VWC) besides other concerned officers were present during the meeting.
Speaking on the occasion, Sheikh Ghulam Mehdi urged the concerned department and agencies to furnish all the details regarding the work achievements of JJM with the representatives of every village.
He also said that with the updated information and details about the work progress regarding JJM, they would also be able to extend their hands and would solve the issues pertaining to the implementation of the JJM scheme more effectively at the grass-root level. He also assured all possible support from the local representatives to implement the scheme.
AEE PHE Kargil, Furman Ali while briefing about the benefits of the JJM scheme, requested the PRI members to extend their support for the implementation of the scheme. He said that the target of completion of the scheme for UT Ladakh is August 15, 2022.
Regarding the completion of the scheme at the stipulated time he said the PHE department alone wouldn't be able to implement the scheme, the overall involvement and cooperation of PRI members will play a pivotal role.
During the meeting, detailed discussions and deliberations were held regarding the concerns and issues with the PRI members regarding the implementations of the scheme. The concern officers took note of all necessary issues and discussed them in detail with the PRI members.