Republic Day celebrated in sub-divisions, tehsils of Kargil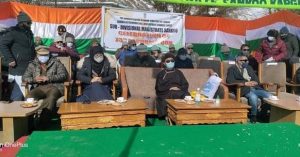 KARGIL, JANUARY 26, 2021: The 73rd Republic Day was celebrated in all sub-divisions, tehsils of Kargil district with zeal and zest amid strict adherence of Covid-19 protocols.
At sub-divisional, Shakar Chiktan, the SDM Muhammad Sharif Kakpoori, who was also the chief guest on the occasion, hoisted the tricolour in the premises of SDM office.
The SDM congratulated the people on Republic Day and highlighted developmental activities of last years and the ongoing projects that are to be carried out this year.
The number of participants was restricted due to Covid-19 situation. Later, appreciation certificates were given to those who have done a commendable job to contain the Covid-19.
At sub division Sankoo, the SDM Ghulam Mohiuddin din Wani hoisted the tricolour. He inspected the parade and took salute at the march past.
The march past was presented by the contingent of Ladakh Police in view of the present Covid-19 situation. On the occasion, all sub-divisional level officers and officials were present.
On the occasion, a cultural program was presented by the students of Higher Secondary School Sankoo.
Later, the SDM presented cash prizes along with appreciation certificates to two players Shahnaz Parveen of Sankoo and Farzana Batool of Trespone for their performance in Asian Games 2021. Besides this prizes were also given to participants.
At Shargole, the 73rd Republic Day was celebrated with zeal and great enthusiasm at Government Higher Secondary School Shargole. Tehsildar Shargole, Sonam Joldan unfurled the tricolor and took a salute on the march past.
On the occasion BDCs, Sarpanches, Lambardars, tehsil level officers, awardees and some senior citizens were present.
Later, the tehsildar distributed appreciation certificates among the extraordinary performers in the education field and Covid-19 warriors.
Similar functions were also held at Padum Zanskar and Drass where the SDMs unfurled the tricolour and took a salute at the march past.