RD&PRD organizes awareness program on Solid Waste Management at Drass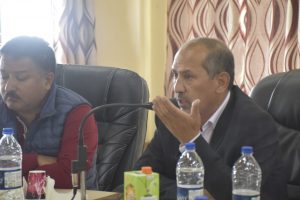 KARGIL, MAY 18, 2022: Rural Development and Panchayat Raj Department (RD&PRD) UT Ladakh today organized one-day awareness program on Solid Waste Management at Drass subdivision.
Director RD&PRD Tahir Hussain Zubdavi, who was present as chief guest of the event, said cleanliness is the responsibility of all stakeholders and under Swachh Bharat Abhiyan Grameen 2nd phase, the department is trying to ensure proper cleanliness and least usage of plastic.
The Director while informing about the activities of RDD in Drass said efforts are being made to manage solid and liquid waste and in this regard, a proposal on faecal sludge management unit has been proposed besides the segregation shed has also been established.
Director RD&PRD stressed that Drass should lead the movement of Swachh Bharat Abhiyan and be an example for others in proper management of solid waste.
On the occasion, Assistant Commissioner Development Kargil, Ghulam Muhammad said the program was aimed to involve the community in framing policies to achieve goals under Swachh Bharat Abhiyan Grameen Phase 2nd and maintain cleanliness across UT Ladakh.
The ACD said the participants of the program are the ambassadors of cleanliness across Kargil district and should spread the message of cleanliness to others.
District Panchayat Officer (DPO), Padma Angmo educated the participants about the management of solid and liquid waste. She also informed about various infrastructural interventions in achieving the goals of Swachh Bharat Abhiyan Grameen Phase 2nd.
The DPO called for scientific and environment-friendly approaches in dealing with waste management and also stressed on the segregation of waste at the primary level.
During the event, SDM Drass, BDC Chairperson Noor Muhammad and BDO Drass also addressed the gathering and spoke at length on different aspects of solid waste management.
Later, the Director RDD also visited various Community Sanitary Complexes (CSCs) under RD&PRD in Drass market.
Assistant Commissioner Development ACD Kargil Ghulam Mohammad, District Panchayat Officer Padma Angmo, SDM Drass Anwar Hussain, BDC Chairperson Noor Mohammad, BDO Drass, BMO Drass besides other concerned officers, PRI members, members of civil society and Merchant Association Drass attended the program.