Principal Secy reviews implementation of ECRP Phase II package, Rs 34.51 crores released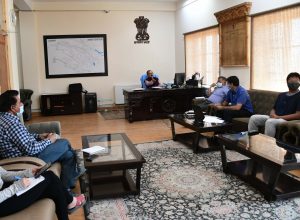 Leh, Aug 18: Principal Secretary, UT Ladakh, Dr Pawan Kotwal, today convened a meeting with the concerned officers from Leh & Kargil districts to review the status of Emergency Covid Response Package: Phase- II (ECRP-II package) amounting to Rs 34.51 crores. The period of the scheme is from 1st July 2021 to 31st March 2022.
Dr Pawan Kotwal discussed the activities and expenditure on purchasing Covid-19 essential diagnostics and drugs, provision for RAT and RT-PCR tests, ramping up the health infrastructure with a focus on paediatric care units, field hospitals, setting up of Liquid Medical Oxygen (LMO) plans with medical gas pipeline system (MGPS), including site preparedness and installation cost, enhancement of human resources for health, etc. be done in a time bound manner at both Districts Hospitals well before onset of winter.
Principal Secretary later directed the concerned officers to prioritise and complete the procurement of machines and equipment and the essential drugs at the earliest. He also directed the officials to augment the existing fleet of ambulances, Advanced Life Support (ALS) ambulance for the UT of Ladakh. He asked them to implement Hospital Management Implementation System (HMIS) effectively in all the Health Institution right from District Hospital to Community Health Centres, Primary Health Centre, NTPHCs Sub-centre level. The stress should be on online entry of data, and all the necessary equipment's like Tablets, Laptops etc should be procured to cover every institution up to Sub-Centre Level.
Principal Secretary asked the MD, NHM & the DHS to set up the Tele-Medicine facility in all the Health Institution on a Hub and Spokes Model where the District Hospital acts like a Hub where specialist/ doctors can provide tele-consultation to the patients in the Health Institution like CHCs, PHCs, NTPHCs, Sub-Centre. All necessary hardware & equipment need to be procured for this purpose and adequate training/capacity building should be done so that the flow of information/ consultation both from the hub to the spokesperson and vice-versa is done smoothly
Dr Kotwal stressed the need for accelerating health system preparedness to immediately respond for early prevention, detection and management, focusing on developing health infrastructure, including paediatric care, with measurable outcomes.
Principal Secretary emphasised the need for providing training to auxiliary nurse midwives (ANMs) and that certificates/ mementoes should be awarded to them on completion of their training .
Additional Secretary, Health & ME/MD, NHM, UT Ladakh; Director Health Services, UT Ladakh; Chief Medical Officer, Kargil; Medical Superintendent, District Hospital, Kargil; representative, PWD UT Ladakh, attended the meeting.