Principal Secy reviews Covid-19 preparedness in Ladakh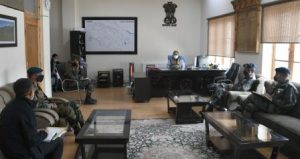 Leh, May, 12: Principal Secretary, Dr. Pawan Kotwal chaired a review meeting on Covid-19 preparedness at the UT Secretariat today. The meeting was attended by the senior officers of the Army from XIV Corps besides District Administration. The meeting reviewed the status and preparation in the context of the pandemic.
The meeting discussed the Covid-19 status in Ladakh, ongoing strategic interventions, future challenges and testing conducted etc.
Principal Secretary, Dr. Pawan Kotwal informed that the purpose of the meeting is to achieve better coordination and to put the resources to the optimum use. Dr. Pawan emphasized the need for continuous caution and prevention by maintaining two-meter distance, use of mask and hand wash.
The need for continuously upgrading and augmenting human resources, getting the right mix of testing for effective case management, contact tracing and isolation, uninterrupted oxygen supply and other medical equipment, were all discussed at length.
He also took cognizance of the district-wise requirements of hospital beds/isolation beds which will be required to undertake emergency planning.
Principal Secretary emphasized the need to have a planned coordinated and comprehensive response to handle the challenge posed by rising cases of Covid-19.
Further, it was discussed to augment testing as well as the number of beds and services to effectively handle the peak surge of covid cases.
Dr. Pawan directed the Deputy Commissioner, Leh to review and examine the existing oxygen filling plant at Chushot and Phyang. Also, asked to ensure round the clock power supply and maintenance of the plant.
He further added that functional level coordination should be there between the army and the civil administration and stated that facilities of the army can also be used for the public.
Deputy Commissioner, Leh also informed that a new oxygen plant is coming up in Nubra and it shall be commissioned by the end of this month. He further directed the health officials to ensure the right quantity of oxygen to the patients.
Chief Medical Officer, Leh informed that they are doing 100% RT-PCR Test except for entry points where RAT tests are also being done.
Further, Dr Pawan directed the CMO to visit the Army General Hospital to check the facilities that the Army authorities have planned to dedicate for the use of the common public and to augment the resources of the UT Administration. Army has assured to provide 20 oxygen beds at Army General Hospital in Leh and another 20 oxygen beds at Kargil.
The meeting was attended by Deputy Commissioner, Leh; Director Health, Ladakh; Chief Medical Officer, Leh and senior Army Officers from XIV Corps.