Principal Secy Ladakh reviews status of 90-bedded hospital, other arrangements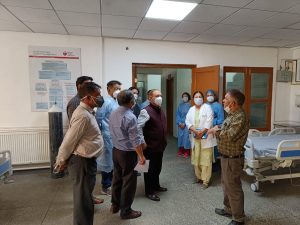 Leh, August 9: Principal Secretary, UT Ladakh, Dr Pawan Kotwal convened a meeting with the concerned officers of Leh & Kargil District to review the status of 90 bedded hospitals and other arrangements.
Later, Dr Pawan Kotwal visited SNM Hospital and inspected the new state of the art 10 bedded Paediatric ICU ward, additional 10 bedded adult ICU ward, 70 new Oxygen beds, 500 LPM PSA oxygen generating plant, latest MRI Machine worth Rs.14.00 crore, and latest Digital X-Ray Plant worth Rs. 2.00 crore which has been installed at the SNM Hospital and will be commissioned within one week.
He congratulated the Hospital management and the Engineering staff for setting up the medical facilities within a very short time to equip the SNM Hospital to deal with COVID-19 third wave.