Principal Secy Kotwal chairs meeting on Animal Birth Control in UT Ladakh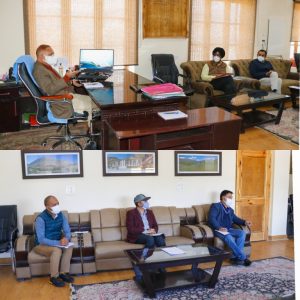 Leh, May 27: Principal Secretary, Dr Pawan Kotwal today chaired a meeting regarding issues of Animal Birth Control in the Union Territory of Ladakh.
Principal Secretary, Dr Kotwal stressed that efforts should be made to control the nuisance of stray dogs in the Union Territory. He exhorted that stray/feral dogs could be a danger to the highly valued wildlife present in the region and also a threat to the common citizens.
Principal Secretary, Dr Kotwal directed the concerned officials to prepare a Detailed Project Report concerning birth control of stray dogs scientifically. He further stressed that the birth control mechanism of spaying/ ovariohysterectomy among female dogs should be prioritized and state of art facilities should be set up and latest dog catching equipment should be procured to undertake the sterilization programme effectively.
During the meeting, Dr Kotwal said that the animal birth control programme should be launched in a mission mode with intra-departmental assistance between Animal Husbandry and Forest Department. He also directed that the personnels involved in this programmme should be highly trained to achieve better results. He also expressed hope to finish this task of sterilizing the whole population of stray dogs in UT Ladakh within a time period of six months.
The meeting was attended by Secretary, Animal and Sheep Husbandry, UT Ladakh, Ravinder Kumar; Chief Conservator Forest, UT Ladakh, Preet Pal Singh and Director, Animal, Sheep Husbandry, UT Ladakh, Dr Mohammad Iqbal and Accounts Officer to Director, Dr Stanzin Rabgyas.