Principal Secy inspects identified site for 30 bedded multi-specialty hospital at Tangste; Hyperbaric Pressure Chambers to be installed at high passes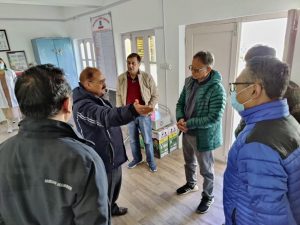 Leh, May 19: The Principal Secretary, Health and Medical Education, and Revenue Department, UT Ladakh, Dr. Pawan Kotwal on his tour to Sub-Divisions Tangtse and Kharu, inspected various medical sub-centers. He visited the construction site for a new 30-bedded hospital at Tangste. It will be constructed under Special Development Project (SDP) at a cost of Rs 31 crores and is expected to be completed in two working seasons. The 30 bedded Multi-Specialty hospital will include an OPD- Out Patient Department, In-patient Department (IPD), a major Operation Theatre, a minor Operation Theatre, Gynaecology ward, Labour, Delivery, Recovery Room (LDR), Nursery, Oxygenated beds, an Emergency Department and supporting areas such as Ultrasound, X-ray room, etc,
Dr. Pawan Kotwal also visited the Medical Sub Center at Spangmik to inspect the health facilities being provided there, especially in view of the large number of tourists visiting Pangong Tso, who face high altitude sicknesses. On-the-spot directions, we're given to further augment the facilities and manpower for better management of such cases.
Director Health Services Ladakh, CMO Leh, DFO Leh, SDM Durbuk and senior Engineers of CPWD accompanied the Principal Secretary during his visit.
The Principal Secretary asked the DHS to plan for the installation of Hyperbaric Pressure Chambers at high passes of Khardong-la, Changla, PHC Tangtse, and Pangong Tso to treat cases of High-Altitude Pulmonary Edema & High-Altitude Cerebral Edema.
At Changla, the DHS informed the Principal Secretary that it has been decided that the Tourism Department Cafeteria building would be handed over to the Health Department for setting up medical facilities at Changla pass. The Principal Secretary asked the DHS to develop an international standard medical facility in consultation with the DIHAR.
The Principal Secretary, Dr. Pawan Kotwal also visited the identified site for the construction of SDM and Tehsildar offices, residences, and Patwar Khanas at Kharu. Directions were given for completion within the assured time and SDM Kharu was directed to propose a plan for accommodation for training and capacity building.