Principal Secy convenes review meeting regarding formulation of District Environment Plans in Ladakh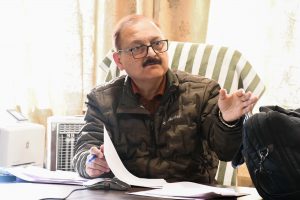 Leh: 29 Oct: Principal Secretary, Forest Ecology & Environment, UT Ladakh, Dr. Pawan Kotwal convened a meeting to review the formulation of District Environment Plans in the Union Territory of Ladakh.
Discussion on varied issues such as administrative set-up, role of local institutions, status of natural resources, gap analysis and action plans for complying rules pertaining to various themes such as solid waste management, plastic waste management, biomedical waste management, hazardous waste management, e-waste management and water quality management was held during the meeting.
It was decided that each thematic area would be reviewed by the Administrative Secretary.
The members also discussed carbon neutral plan drafted by the various departments.
He instructed the concerned Secretaries to implement the carbon neutral plan in their respective departments.
Principal Secretary highlighted the need for creation of a database to assess the disposition of bio-medical waste, plastic waste, solid waste etc in Ladakh.
After a detail discussion Principal Secretary and all the concerned Secretaries decided to review thematic areas in line with their mandate of the National Green Tribunal Act (NGT).
The meeting was attended by Commissioner Secretary, Ladakh; Divisional Commissioner, Ladakh; Chief Conservator of Forest/ Member Secretary, Pollution Control Committee, UT Ladakh; Deputy Commissioner/ CEO, LAHDC, Leh/ Kargil. Ladakh; Joint Director, Planning Department; Superintending Engineer, PHE&IFC, Ladakh; ACR, Leh and various officers .