Principal Secretary reviews the status of data to be provided to WII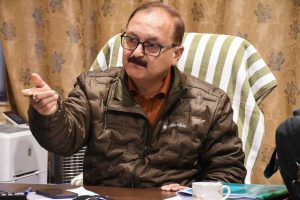 Leh, Oct 29: Principal Secretary, Planning, Development & Monitoring Department, UT Ladakh, Pawan Kotwal, today convened a meeting to review the status of information to be provided to Wildlife Institute of India (WII) of boundaries of Changthang and Karakoram Wildlife Sanctuaries.
Principal Secretary, Forest, Ecology & Environment, directed all concerned authorities to furnish the requisite data/information to the representative of the WII in Leh, by the 8th of November 2021 positively.
S. Satyakumar, Scientist-G, Wildlife Institute of India (WII) updated the participants regarding the status of information required by WII for rationalization of boundaries of Changthang and Karakoram Wildlife Sanctuaries.
For the aforementioned purpose, Dr Ajaz Hussain, Project Scientist, WII shall be the nodal person for collection of information from various departments and offices of the UT of Ladakh.
The meeting was attended by Commissioner Secretary Ladakh, Ajeet Kumar Sahu; IFS, Chief Conservator of Forests/Chief Wild Life Warden, UT Ladakh, Preet Pal Singh; IAS, Secretary, Sheep & Animal Husbandry, Power and Renewable Energy, Agriculture & Horticulture, UT Ladakh, Ravinder Kumar; IAS, Deputy Comissioner/CEO, LAHDC, Leh, UT Ladakh, Shrikant Balasaheb Suse; Director Tourism, UT Ladakh, Kunzes Angmo; Assistant Commissioner Revenue, Leh, UT Ladakh, Shabir Hussain; Chief Engineer, Himank/Vijayak. C/O 56 APO; DIG, ITBP, Leh , RK Chauhan; Scientist-G, WII, Satyakumar; Wildlife Warden, Leh, UT Ladakh, Pankaj Raina; Executive Engineer, CPWD, Leh , Rahul Singh; Col. Pankaj Sinha, HQ Leh, Sub Area, Indian Army, Leh ; Landscape Associate, SECURE Himalaya Project, UNDP, Nansel Stobdan; Project Scientist, Leh, WII, Ajaz Hussain.