Principal Secretary reviews progress on establishment of Medical College, other programmes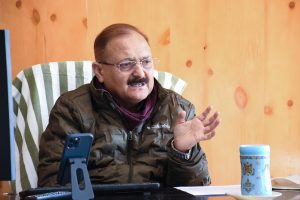 Leh, November 9: Principal Secretary, Health and Medical Education Department, Dr Pawan Kotwal chaired a meeting today to discuss the roadmap for the completion of pre-fabricated structures for the Academic Block of New Medical College at Leh.
The concerned officials apprised Dr Pawan Kotwal about the status of the Detail Project Report (DPR) for the same. In the meeting, Dr Pawan Kotwal enquired about the progress of Biomedical Waste Management, Health and Wellness Centres, PMJAY and UHC schemes, and Implementation of ECRP- II.
He asked the Chief Engineer, CPWD to prepare an action plan involving a survey of the site, finalization of suitable pre-fabricated/ pre-engineered technology, preparation of DPR, tendering process and award of contract, respectively.
Regarding the revision of the cost of the 250-bedded hospital proposed to be constructed in the SNM Hospital for the Medical College, it was decided that the CE/CPWD would revise the estimates/DPR strictly in conformity with Norms and Specification for the '250 bedded Hospital for Teaching Purposes' prescribed under the Clinical Establishment (Registration and Regulation) Act 2010 and rules made thereunder which apply to the UT of Ladakh.
Dr Pawan Kotwal also enquired about the construction of compound walling of the selected portion of land to demarcate it and protect it from any encroachment.
He also emphasized that the requisite infrastructure as per the National Medical Commission norms, along with non-medical furniture should be made ready by March/ April 2022, so that the classes of New Medical College of Leh would commence from the Academic Session 2022.
Concluding the meeting, Principal Secretary Pawan Kotwal took stock of the increase in covid cases and instructed the officials to adopt stricter measures to curb the spread of Covid- 19 in schools, events, roads, and air travel.
The meeting was attended by Chief Engineer, CPWD, Pradeep Gupta; Additional Secretary, H&ME Department, Dr Iftikhar Ahmed Chowdhary; Director Health Services, Dr Phuntsog Angchuk; Nodal Officer, Medical College, Leh, Dr Norboo Angchuk; Executive Engineer, CPWD, Kamlesh Kumar, Deputy Director (Planning), Konchok Gyalson; Chief Medical Officer, Leh, Dr Motup Dorje; Incharge, Chief Medical Officer, Kargil, Dr Fatima Nissa; Medical Superintendent, District Hospital Leh, Dr Nurzin Angmo, Medical Superintendent, District Hospital Kargil, Dr Kacho Liyaqat Ali Khan and other officials.