Principal Secretary reviews arrangements for IDY celebrations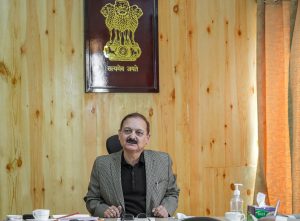 Leh, June 16: The Principal Secretary, Health and Medical Education, Dr. Pawan Kotwal chaired a meeting to review the preparations for the upcoming International Day of yoga (IDY) celebration on June 21, 2022.
The Hon'ble Minister for Law and Justice, Kiren Rijiju will lead the celebration in Leh by practicing yoga asanas at Pangong Tso site. Similarly, led by the Minister of Home Affairs, Ajay Kumar Mishra, IDY will be celebrated at the Khree Sultan Cho stadium in district Kargil. Around 500 people are expected to participate in the Pangong Tso site event and another 700 people are expected to participate at the Khree Sultan Cho stadium in Kargil.
Taking stock of the arrangements for the IDY celebrations, the Principal Secretary said that all efforts should be made to make the event a grand success. He said the event should be well publicized, rehearsals should take place on time, and security arrangements at the site should be beefed up. Keeping in mind the cold temperature at Pangong Tso, the Principal Secretary said that the school children participating in the event should be advised to bring warm clothing and they must be provided with healthy refreshments.
Director Health, UT Ladakh, Dr. Motup Dorje apprised the Principal Secretary about the arrangements for the event planned for the day, While SSP Leh, P.D. Nitya, apprised him about the security arrangements.
The meeting was attended by Dr. Motup Dorje, Director of Health; Dr. Safdar Ali, Director of School Education; P.D. Nitya, SSP Leh; Sonam Chosjor, ADC Leh; Imteaz Kacho, Registrar, University of Ladakh; Dr. Nurzin Angmo, CMO Leh; Dr. Munnawar Wazir, CMO Kargil; V.K.Singh, ITBP; Pankaj Kumar, CRPF; Deepak Shukla, CRPF; Sonam Angchuk, AIR Leh; Stanzin Lotus, DDK leh; and Tsering Tashi, Dy SSO Leh.