Principal Secretary Kotwal reviews State/SDP plan of PHE & I&FC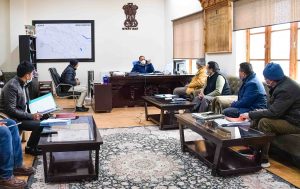 Leh, April, 21: A meeting was chaired by Principal Secretary, Planning, Development and Monitoring Department Dr. Pawan Kotwal today to review the State/SDP plan of PHE & I&FC at the UT Secretariat. Administrative Secretary, Ravinder Kumar was present in the meeting.
Principal Secretary, Dr Pawan instructed the officials from PHE & I&FC to plan a good design purely based on Supervisory Control and Data Acquisition (SCADA) for extraction of water, filtration, storage and distribution.
He further asked the officials to submit a DPR explaining water source, discharge data and filtration and asked to involve DCs in preparing the DPR. He further asked to prepare a comprehensive plan incorporating the international norms so that it will work in winters as well. He further added that the component of the DPR should include source development, filtration infrastructure and reservoir.
Secretary also asked them to prepare the project on Engineering, procurement, and construction (EPC) mode and directed the officials to keep 5 years for maintenance.
He further asked the Secretary of the department to examine the existing source, filtration capacity, treatment plant, storage overhead tank and electromechanical component. He further directed to make use of technology purely based on (SCADA) systems at the water source.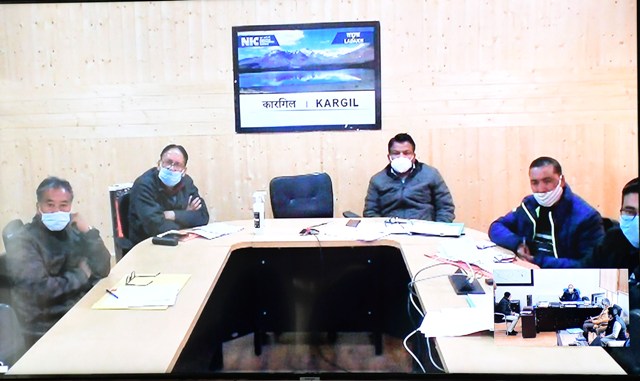 Principal Secretary was apprised that the source of water is the River in both Leh and Kargil districts.
Talking about filtration, he directed the concerned officials to consult the experts about the quality of water that is distributed to people. He added that as per the norms of potable drinking water it should be filtered and then distributed among the people. He added that the distribution network should be laid deep underground so that the pipelines do not get damaged in the winter due to frosting so that safe drinking water cou
ld be supplied 24X7 during the whole year.
Principal Secretary was apprised by the officials that they have provided water supply in Gangles in winter.
The meeting was attended by Chief Engineer Hydraulics, Superintendent Engineer, Hydraulics, Kargil; Exen PHE Leh/Kargil ; Exen I&FC Leh/Kargil and DD Planning.