Principal Secretary discusses measures to control feral /wild dogs attack on endangered species and birds Hanle to be declared as ' Dark Sky Sanctuary'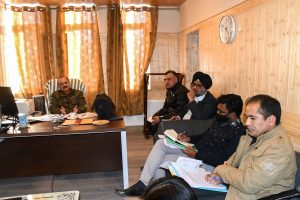 Leh, Oct 29: Principal Secretary, Planning, Development & Monitoring Department, UT Ladakh, Pawan Kotwal, today convened a meeting to discuss majors to streamline certain activities in the Protected/Wildlife Areas.
Issues regarding the attack of feral/wild dogs on rare species and birds of Ladakh were discussed in the meeting. Principal Secretary emphasized that these dogs are a threat to several resident and migratory ground-nesting birds in Changthang. Inability to tackle this problem may lead to severe endangering of critical bird and mammalian species.
He also added that this issue has been discussed in the Board of Wildlife and 3 Army officers have been appointed as Wildlife Wardens and now they are equally responsible for the protection of Wildlife.
While emphasizing on this issue, he added that the management of kitchen leftovers/food waste at army camps and hotels, by disposing them in biodigesters could be good way to control the population of stray dogs. In this regard, it was stated by the Principal Secretary, that the Organic Waste Composting Machine piloted successfully by SECURE Himalaya Project in Chushul, may be replicated in other armed forces camps and densely populated villages of Changthang.
As suggested by Lieutenant Governor, R.K Mathur, the possibility of breeding pure-bred Ladakhi dogs to be trained and used by the Armed Forces and other secuirity forces (as guard dogs), must be explored in consultation with the Animal Husbandry Dept.
The point with respect to the development of pure bred dogs, Col Sinha added that this point has been practically followed in Kashmir valley as the local dogs of the Kashmir valley have been adopted by the Army.
Principal Secretary, further added that shortly UT Administration will be declaring Hanle as a 'Dark Sky Sanctuary' in collaboration with the Indian Institute of Astrophysics, Hanle/ Starview Sanctuary to promote Astro- Tourism in the area and provide avenues of earning livelihood of the people living there.
For this purpose, few things have to be taken care of. After the dusk, depending upon the season, the curtains have to be drawn for the lighting inside the room. For the outdoor lightings, shades have to be put on the lights so that the lights don't go up to the sky. The vehicles moving in the area should always be low beam and to ensure that they are low beam, they should put stickers on the headlights so that even if the driver wishes to turn on the high beam, the light doesn't go up towards the sky as that causes interference in the light coming from the stars captured by the telescope and other instruments.
Col Pankaj Sinha, HQ Leh, Sub Area, Indian Army Leh, added that the Hanle situation can be implemented with ease and Indian Army will extend all the cooperation necessary towards showcasing Hanle as a Dark Sky Sanctuary.
Principal Secretary thanked the all members for attending the meeting.
Commissioner Secretary Ladakh, Ajeet Kumar Sahu; IFS, Chief Conservator of Forests/Chief Wild Life Warden, UT Ladakh, Preet Pal Singh;
IAS, Secretary, Sheep & Animal Husbandry, Power and Renewable Energy, Agriculture & Horticulture, UT Ladakh, Ravinder Kumar; IAS, Deputy Comissioner/CEO, LAHDC, Leh, UT Ladakh, Shrikant Balasaheb Suse; ; Assistant Commissioner Revenue, Leh, UT Ladakh, Shabir Hussain; Regional Wildlife Warden, UT Ladakh, Sajjad Hussain Muft; Wildlife Warden, Leh, UT Ladakh, Pankaj Raina; Chief Engineer, Himank/Vijayak,C/O 56 APO; DIG, ITBP, Leh, R.K Chauhan; Col Pankaj Sinha, HQ Leh, Sub Area, Indian Army Leh; Landscape Associate, SECURE Himalaya Project, UNDP Nansel Stobdan attenteded the meeting.