Principal Secretary chairs meeting of the Executive Committee of the State Health Society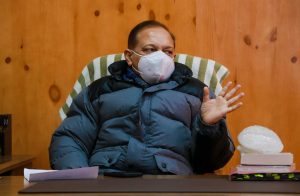 Leh, March 03: Principal Secretary, Health and Medical Education, Dr Pawan Kotwal chaired a meeting of the Executive Committee of the State Health Society in his office chamber.
Speaking to the officials present, the Principal Secretary said that many things in the health department need to be checked on the ground. On the issue of health officials posted in far-flung areas but continuing on attachment posting in Leh to avoid serving in their respective post, Principal Secretary instructed the Director Health Services to detach such officials and take action against them. This should not happen at the cost of the public, he added.
Further, Principal Secretary instructed that Rashtriya Bal Swasthya Karyakram (RBSK) teams should gather the primary school children at the local Anganwadi centres and conduct a health check-up. He was apprised that there are 10 RBSK teams each in Leh and Kargil districts. Rashtriya Bal Swasthya Karyakram is a crucial initiative aimed at early identification and early intervention for children from birth to 18 years to cover defects at birth, deficiencies, diseases and development delays including disability.
State Accounts Officer, National Health Mission, Tsewang Dorjey gave the Principal Secretary a detailed presentation on the Program Implementation Plan (PIP) for 2022-2023 and 2023-2024.
In the meeting, it was proposed that the Asha workers' travelling allowance be hiked. Principal Secretary said an Asha worker has become the pivot of running the grass-root level programmes and she should get what is due to her. A proposal in that regard would be sent to the Union Ministry by the Health Department, UT Ladakh.
To strengthen women's health and detect breast cancer at an early stage, Principal Secretary directed health officials to conduct workshops for women to self-detect nodules for breast cancer. Further, he instructed officials to propose a budget for vaccinating girls in the age group of 11 to 15 years against cervical cancer.
The meeting was attended by Additional Secretary, Health and Medical Education, Dr. Iftikar Choudhary; Director Health Services, Dr. Motup Dorje; CE, PWD, Prakash Tanoch; CMO Kargil, Dr. Munnawar Hussain; State Accounts Officer, NHM, UT Ladakh, Tsewang Dorjay and State Programme Officer, NHM, UT Ladakh, Stanzin Gyalaks.