Principal Secretary chaired a meeting on conducting survey/resurvey of Non-Abadi Deh areas of UT Ladakh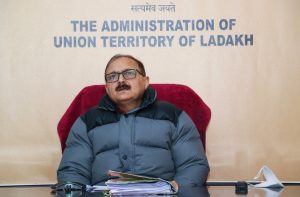 Leh, January 7: Principal Secretary (Revenue/Financial Commissioner), Pawan Kotwal chaired a meeting, hosted by the Survey of India (SOI), to discuss the survey/resurvey work of the Union Territory of Ladakh. SOI is the National Mapping Agency of the country under the Department of Science & Technology.
In the meeting, the Principal Secretary reiterated that the survey of Abadi Deh areas has already been undertaken by SOI under the Survey of Villages Abadi and Mapping with Improvised Technology in Village Areas (SWAMITVA) scheme with drones and ground-truthing using the Continuously Operating Reference Stations (CORS) network technology. He added that although the CORS network station is expected to be set up after the tendering process to survey and verify the areas in a systematic way, there is an urgent need to survey the unmapped villages of Ladakh.
Stressing the need of surveying the villages in Ladakh, the Principal Secretary directed the SOI officials that agricultural land in the 250 villages should be surveyed and mapped along with large swathes of barren land that are hitherto unmapped. He stressed that Ladakh is a sensitive area due to its strategic location and given its security concerns, a premier mapping agency of the Government of India like SOI is apt to undertake the task.
Joining the meeting virtually, the Surveyor General of India, Naveen Tomar commented that the survey of Non-Abadi Deh areas can be done by the administration of UT Ladakh with the guidance of SOI as the procedure and agencies involved will be the same. On this, the Principal Secretary urged the SOI officials for full technical support once the Request for Proposal (RFP) is submitted and approved by the concerned authorities. He also exhorted that the agencies involved should visit Ladakh in advance to ascertain the project in a systematic way.
Further, the Surveyor General of India assured that full cooperation and support will be extended by SOI to Ladakh and added that a study is in progress to finalise the most suitable method to conduct the surveys. The report will be submitted by January 15. Additionally, the project of installing 11 CORS stations in Ladakh shall be completed by April 2022.
The meeting was attended by Divisional Commissioner, Ladakh; Director, JKGDC; Addl SG NZO; Deputy Commissioners (Leh/Kargil); ACR, Leh/Kargil.