Prin Secy Revenue/ Financial (R) reviews progress of SVAMITVA project in Ladakh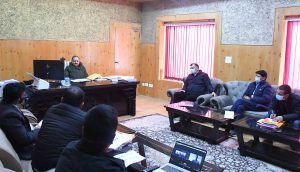 Leh, December 1: Principal Secretary, Revenue/ Financial Commissioner (R), Dr Pawan Kotwal, today, chaired a meeting to review the progress of the Survey of Villages Abadi & Mapping with Improvised Technology in Village Areas (SVAMITVA) project in the UT Ladakh.
The scheme aims to provide an integrated property validation solution for rural India. The demarcation of rural Abadi areas would be done using Drone Surveying Technology.
In the meeting, the officials of the Survey of India (SOI) apprised Dr Kotwal that five villages are already completed as per the project. Dr Kotwal instructed the officials to expedite the project and figure out ways to maintain the momentum of the project keeping in mind the extreme weather condition in Ladakh.
Further, Dr Pawan Kotwal instructed the officials to submit the details on the map for Property Cards for the villages including Shey, Phey, and Nimmo, and other pending reports by December 15, 2021.
The meeting was attended by Divisional Commissioner, Ladakh; Deputy Commissioner, Leh; Deputy Commissioner, Kargil; Director, J&K and Ladakh, G.D.C, Survey of India, Jammu; Assistant Commissioner, Revenue, Leh & Kargil; In-charge, Survey of India, station Leh and DIO, NIC, Leh/ Kargil.