PHE Department organizes training program on water GEMS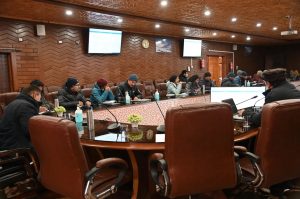 KARGIL, FEBRUARY 28 2021: Public Health Engineering Department Kargil in collaboration with Ladakh Ecological Development and Environmental Group (LEDeG) and BORDA, today organized a training program on water GEMS for Engineers of PHE, I&FC Department under Jal Jeevan Mission (JJM) at conference hall Baroo.
Chief Engineer PHE, Ladakh Ved Prakash, Superintendent Engineer PWD, Tashi Tundup, Engineers of PHE and I&FC, resource persons Anjita Tupas, Rajita Shrestha from Eco First Service Ltd. besides other concerned officers were present during the training session.
On the occasion, the CE Prakash expressed his gratitude to the organizers for conducting such a resourceful training session for the engineers of PHE and I&FC Department Kargil.
He said this training program will enable the engineers to implement JJM effectively on the ground and urged engineers to take maximum benefits out of the training session.
The trainers gave a detailed presentation on various modules including an introduction to water GEMS, fundamental concepts of water supply system/pressure system, population data, water demand calculation, hydraulic results to check, how to add background file, how to assign demands, and how to create and assign pump definition.
Model tank and PRV, creating model scenarios and alternatives, extracting the drawings besides on other allied modules were also discussed during the session.
The trainers also informed participants on how to develop an understanding of model creation using software, gain essential knowledge for water system design, operation, troubleshooting, apply water GEMs models to solve water distribution system problems.
Similarly, the design of pumping mains, gravity distribution, network system using the software, review of existing water distribution models in the software, and making necessary modifications were also discussed.
Meanwhile, the training session ended with an interactive question and answer session.