PHE Department organizes cleanliness drive at Shargole block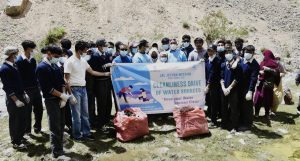 KARGIL, JUNE 01, 2022: Implementation Support Agency for Jal Jeevan Mission under Public Health Engineering Department Kargil today organized a cleanliness drive at Hot Spring Mulbek in Shargol Block.
BDC, BDO, BMO, Principal Government Higher Secondary School Mulbek, Shargole, Sarpanch, Panch, NYK volunteers, VWSC members, and students of the school took part in the cleanliness drive.
Officials said one of the objectives of JJM is to provide quality water in addition to the prescribed quantity adding that water is life so the source of water should be clean and pure.
In addition to the cleanliness drive, the ISA also organized an awareness program on waterborne diseases at Government Higher Secondary School Mulbek, Shargole.
Various participants presented their speeches in the said program and appealed to people to maintain cleanliness at their respective places to make the environment clean and green.
BMO Shargole also spoke on the occasion and gave awareness to the participants about various waterborne diseases and impact on human health.
The team leader from ISA also stressed on VWSC members to check the water with the Field Test Kits (FTKs) which were distributed among five women user groups in every revenue village.
The officials said that organizing such drives is to motivate people to keep their water sources and the surroundings clean and aware them about waterborne diseases.