Officials inspect oxygen plants in Leh to take stock of standby power supply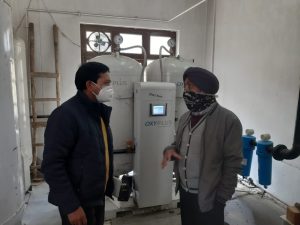 Leh, May 12: A team of officers from the medical, power, mechanical and PWD department inspected various government and private oxygen plants for standby power supply system of oxygen plants in Leh under the direction of Secretary Power Development & NRE Department of UT Ladakh.
The team inspected the functioning of two existing backup DG sets at the SNM Hospital oxygen plant. The team also directed AEE PWD to connect it with the DG sets of the SNM Hospital building 200 KVA & 250 KVA for any emergency requirement.
The team of PDD Engineers headed by Superintending Engineer, the Executive Engineer and the Assistant Executive Engineer also visited the oxygen plants at Phyang and Chushot to take stock of the power supply.
Both the plants have dual feeder connections of the grid supply. PDD has the required capacity of DG sets for both the oxygen plants in case of emergency.