NYK Kargil organizes district level neighborhood youth parliament at Sankoo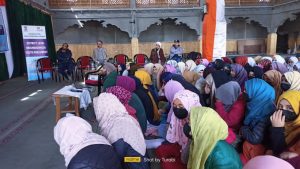 KARGIL, MARCH 22, 2022: Nehru Yuva Kendra (NYK) Kargil today organized a district-level neighborhood youth parliament at subdivision Sankoo.
SDM Sankoo, Ghulam Mohidin Wani was the chief guest on the occasion, Chairman Anjuman Sahib Zaman, Sheikh Sadiq Balaghi was the guest of honour, Assistant Professor Ghulam Ali, Akbar Ali PGT HSS Lankerchey, Mansoor Mehdi Branch Manager State Bank of India Khumbathang Kargil, Ashiq Husain Scholar UoL Department of Botany were present on the occasion as resource person besides a large number of students from different schools.
The program began with the welcome address by National Youth Volunteer Muneer Ahmad Turabi. He explained the objective of the program is to educate youth about important issues like carrier counseling and awareness about social evils.
Speaking on the occasion, SDM Sankoo appreciated the NYK Kargil for organizing such a resourceful program for spreading awareness among the students about various carrier opportunities.
Highlighting the importance of education, the SDM urged students to set particular goals with respect to their choices and said that commitment, dedication and hard work are must.
Prominent religious scholar and chairman ASZ in his address said that nowadays, moral and ethical values are more important in education so that society is free from all types of social evils.
He stressed students to groom their careers under the guidance of parents and teachers. He also thanked NYK Kargil for organizing such an impressive program in Sankoo and requested NYK team to organize such a program in the future also.
Earlier, resource persons delivered lectures on careers opportunities in different fields. Media branch manager SBI Khumbathang, Mansoor delivered his talk on scholarships and education loans for professionals and higher studies in India and abroad.
In the end, NYK Kargil facilitated Haseena Banoo student from HSS Lankerchey for securing 1st position in class 10th standard in Sankoo subdivision.