NRLM to aim for Livelihood to Enterprise in Ladakh – Secretary, Rural Development Dept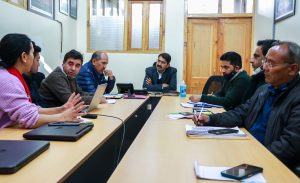 Leh, April 20: The Commissioner/Secretary, Rural Development & Panchayati Raj Department, Ladakh, Saugat Biswas chaired a review meeting on the status of implementation of the National Rural Livelihood Mission (NRLM).
NRLM is a poverty alleviation project implemented by the Ministry of Rural Development, Government of India in June 2011. This plan is focused on promoting self-employment and the organisation of the rural poor.
Assistant Commissioner Development, Leh and Kargil gave a detailed presentation on NRLM. They briefed the Secretary about Community Investment Fund Management, Physical Progress Reports, Social Mobilisation, Financial Reports, and Success Stories of Self-Help Groups (SHGs).
The Secretary emphasised Social Mobilisation as the primary step of community development. The process of social mobilisation begins with an awareness campaign, he added. Therefore, the Secretary directed the Director, RDD to organise mobilisation campaigns and deploy 20 trained people per block. He also directed the officials to complete the mobilisation campaign in one month and provide weekly updation to Director and Deputy Secretary, RDD.
He also directed the concerned officials from Agriculture and Horticulture departments to explain the schemes and benefits like PM Formalisation of Micro food processing Enterprises (PMFME), Vandhan Vikas Vojana, Greenhouse subsides and organic farming etc to the SHGs during the mobilisation campaigns so that the SHGs can reap benefit from the schemes.
The Secretary directed the officials from Kargil to conduct a meeting with the experts from PMFME and SHGs in Kargil who are into food processing. This will help the SHGs to put forward their queries related to food processing and learn from the experts.
While discussing the progress report, the Secretary emphasised product standardization and stated that it involves making sure that a product upholds certain standards for item quality, branding and appearance in the market. To improve standardization, the Secretary, RDD recognised the need to sit with the SHGs and identify their problems and circumstances. He added that through training and links to markets, the women of SHGs can increase household income through sustainable livelihood enhancements and improved access to financial services.
The Secretary appreciated the progress and success stories of the SHGs and urged the concerned officials to make motivational films on their success stories to motivate others into being 'Atmanirbhar'.
The meeting was attended by Director, Rural Development; Assistant Commissioner Development, Leh/Kargil; General Manager, Industries & Commerce; Director, Horticulture; Chief Agriculture Officer representative, Leh/Kargil; Achi Association representative; and Block Programme Manager, Leh/Kargil.