NHM organises World Health Day at SNM Hospital Leh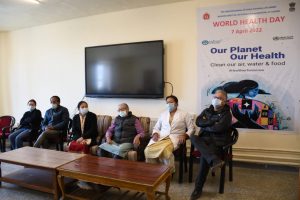 Leh, April 07: National Health Mission, Leh organised World Health Day under the theme 'Our Planet Our Health' at Sonam Norboo Memorial Hospital, Leh. Padma Bhushan awardee, Dr Tsering Landol (Retired Gynecologist) was the chief guest on the occasion. She was accompanied by Chief Medical Officer, Leh, Dr Nurzin Angmo; Medical Superintendent, SNM Hospital, Leh, Dr Tsering Chorol; District Health Officer, Leh, Dr Skarma Sonam Yontan; District Tuberculosis Officer, Leh, Dr Iqbal Ahmed, Doctors, Staff and other officials.
Dr Tsering Chorol welcomed Dr Tsering Landol and expressed her gratitude for her selfless service to the people of Ladakh. In her speech, she highlighted the increase in communicable and non-communicable diseases and their link with the human activities causing global warming and climate change. She informed that the majority of death cases in the world are due to environmental pollution caused by human activities. She added that usage of Bukhari (heater) in close and poorly ventilated rooms in the winter season causes health problems in Ladakh.
Further, Dr Tsering Landol highlighted the importance of precious human life and its role in enhancing the quality of the environment by utilizing the available natural resources. She emphasised preventing human activities that cause pollution in the environment leading to various forms of hazardous diseases. She advised following the slogan 'Think Globally and Act Locally' by planting more trees and consuming natural organic food for a healthy life. Further, she highlighted the need for giving awareness to mothers in upbringing their children in a naturally clean and good environment with clean and healthy food.
Chief Medical Officer, SNM Hospital Leh, Dr Nurzin Angmo spoke on the issues of environmental degradation, its causes and its consequences on human health. She advised the people to follow certain steps for preserving the natural environment leading to good health. She advised not to use plastic and reduce the consumption of alcohol. Instead, she advised eating a nutritious balanced diet comprising maximum fruits and vegetables. Further, she advised people to do regular exercises, meditation, and yoga and get sufficient sleep for a healthy life. She recommended a health check-up once a year for every person to know their current health condition which could prove very beneficial in avoiding hazardous diseases.