NDRF conducts maiden TTEx on earthquake in Leh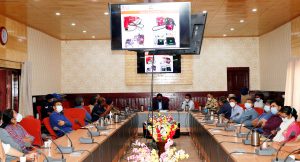 Leh, August 02: The National Disaster Response Force (NDRF) conducted its maiden Table Top Exercise (TTEx) on earthquake under the chairmanship of Deputy Commissioner, Leh, Shrikant Suse, who is also the Chairman, District Disaster Management Authority (DDMA), Leh, at the DC Conference Hall in Leh today. It involved various stakeholders, including Revenue, Police, UTDRF/ Civil Defense, Armed forces, NHPC Nimoo-Basgo, PWD, Medical and NGOs.
Assistant Commandant, 13th Battalion, NDRF, Deve Darshan Velwal, gave a detailed PowerPoint presentation on the structure and role of NDRF in India, its abilities, the list of machines used for dealing with all types of natural and man-made disasters, etc. DD Velwal stressed the need for coordination among the stakeholders during a disaster to reduce response time for rescue measures as Ladakh is located under level IV and V earthquake seismic zones.
Heads of different stakeholders headed by Chief Executive Officer (CEO), DDMA, Leh, Sonam Chosjor, responded to the queries developed by the NDRF, as per the draft plan of the DDMA, Leh.
CEO, DDMA Leh, Sonam Chosjor, also gave a brief presentation about the draft plan of DDMA Leh developed as per the global disaster guidelines. He shared an all-important database at district and sub-divisional levels designed to respond to all types of disasters.
A mock exercise would be conducted tomorrow at the Institute of Hotel Management, Taski-Thang near Lamdon School, Leh, at 11:00 AM by the NDRF team to sensitise stakeholders with the preparedness of the mechanisms at the time of an earthquake.
The meeting deliberated on key points, including the opening of the NDRF branch in Ladakh, satellite phone, helipads, medial infrastructure and response team, hygiene and sanitation, drinking water supply, the role of media, awareness and training regarding disaster management in the district.