National Voters Day celebrated at Zanskar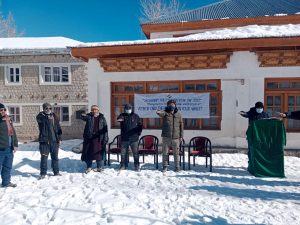 KARGIL, JANUARY 25, 2022: National Voters Day was today observed in Zanskar Sub Division at Tourist Dak Bungalow Padum where Naib Tehsildar, Muhammad Ibrahim pledged to participate in every election.
Sub Divisional officers and Booth Level Officers (BLOs) participated in the pledge function.
The theme of this year's NVD is 'Making Elections Inclusive, Accessible and Participative' envisages focusing on the Election Commission of India (ECI's) commitment to facilitate the active participation of voters during the elections and to make the complete process hassle-free and a memorable experience for all categories of voters.