National Vaccination Day celebrated at PHC Nyoma Honours health staff as a part of National Vaccination Day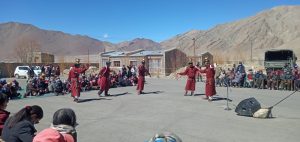 Leh, March 16: National Vaccination Day celebrated at PHC Nyoma today under the Azadi ka Amrit Mahotsav Programme. Nambardar, Nyoma, Padma Namdol was the chief guest on the occasion.
Dr. Tsering Angchuk, BMO, PHE, Nyoma briefed about the importance of vaccination and added that this day creates awareness regarding how effective the vaccination is to prevent deadly diseases.
Padma Namdol spoke about Azadi ka Amrit Mahotsav & National Immunization Day. He added that it is important since the Administration of UT Ladakh has started the COVID-19 vaccination for children between 12 to 14 years of age from today.
Colourful cultural programme was showcased by the people of Nyoma, Mudh, Niddar, T.R. Camp and staff of the Medical Department.
Later, the best workers / ASHAs of the Medical Department of Nyoma block were honoured as a part of the National Vaccination Day.