National Tourism Day celebrated across Kargil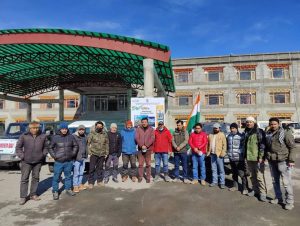 KARGIL, JANUARY 25, 2022: The National Tourism Day was celebrated across Kargil district today with great enthusiasm and the Tourism Department illuminated tourism offices and accommodation units.
In this regard, Chairman and Chief Executive Councilor, LAHDC Kargil, Feroz Ahmad Khan flagged off a car rally of members of All Kargil Travel Trade Association (AKTTA) Kargil from Council Secretariat. The rally culminated at Linkipal Snow Ski Slope Kurbathang, Kargil.
This program was also attended by the Executive Councilor Tourism, executive members of AKTTA and officials of the Tourism Department.
The day is celebrated in the country to create awareness among the masses about growth prospects of the tourism sector and how it impacts India's economic development.
A similar program was also celebrated at Drass, the second coldest inhabited place, with great enthusiasm and zeal despite the intense cold in the subdivision.
The program was attended by Karate Federation members of Horse Polo Association, officials and tourism stakeholders.
Later in the evening, a function in celebration of the National Tourism Day was held at the Tourist Office Kargil where Assistant Director Tourism, officials of the Tourism Department and executive members of AKTTA participated.
On the occasion, the Tourism Department Kargil displayed banners and hoardings at tourist places in the district and illuminated tourism offices and accommodation units in the district.