National Panchayati Raj Day celebrated in Kargil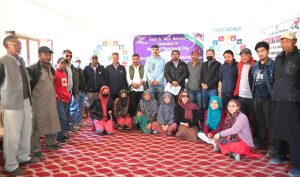 KARGIL, APRIL 24, 2022: The National Panchayati Raj Day was celebrated across the Kargil district on which the Ministry of Panchayati Raj conferred awards to two Gram Panchayats and one Block from Kargil for good work done by PRIs at each level for outstanding GPDP and improving the delivery of services and public goods.
Chairman and Chief Executive Councillor, LAHDC, Kargil, Feroz Ahmad Khan and Deputy Commissioner/CEO, Santosh Sukhadeve from Kargil and Executive Councillor, RD&PRD Er Punchok Tashi and chairperson, Block Development council from Drass attended the live telecast of PM Modi from Palli Gram Panchayat, Samba, Jammu on National Panchayati Raj Day celebration.
On the occasion, two Gram Panchayats from Kargil Pushkum-B and Pan Drass and one Block Karsha have been conferred with awards. The Pushkin-B PH and Karsha Block have been conferred with Deen Dayal Upadhyay Panchayat Sashaktikaran Puraskar (DDUPSP) and Pan Drass with Gram Panchayat Development Plan (GPDP) Award.
The CEC facilitated the Pushkum-B PRI members with the certificate of appreciation at NIC, while EC Tashi facilitated the Pan Drass PRI members and Councillor Cha, Stanzin Lakpa and SDM Zanskar Sonam Dorjay facilitated Karsha BP members.
Meanwhile, the National Panchayati Raj Day was observed at Pushkum-B, Pan Drass, Karsha and all other Gram Panchayats across the district where Gram Sabha was also held on the occasion.
All the 98 Panchayats discussed the Sustainable Development Goals (SDG) related nine themes in vernacular language and prioritized one to three theme(s) which was followed by drafting of resolutions and approved in Gram Sabha. The prioritized SDG-related theme(s) are being uploaded on the Vibrant Gram Sabha Dashboard.
Earlier, as part of Azadi Ka Amrit Mahotsav, Rural Development and Panchayati Raj Department (RD&PRD) observed an iconic week from April 11 to April 17, 2022, in all the 98 Gram Panchayats of Kargil district for localization and prioritization of SDG related themes.
On the occasion, Assistant Commissioner Development Ghulam Muhammad, President Panchayat Coordination Committee Issa Ali, BDOs, PRI members and villagers were present at Pushkum, Likewise, DPO Kargil, BDO Drass and PRI members were present at Pandrass PH.
National Panchayati Raj Day is observed on April 24 every year by the Union Ministry of Panchayati Raj to celebrate the constitutional status accorded to the Panchayati Raj system in the country.