National Lok Adalat held at Kargil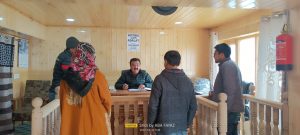 KARGIL, MARCH 12, 2022: A National Lok Adalat was held today at Court of Assistant Commissioner Revenue, Kargil premises.
In this connection, the 4th bench was conducted by the Assistant Commissioner Revenue Kargil, Abdul Gaffar Zargar in presence of Tehsildar Kargil, Muhammad Saleem Wazir.
A total of 12 revenue-related cases were referred to the Lok Adalat, out of which 05 cases were disposed-off.