MSL celebrates 1st founding anniversary in Leh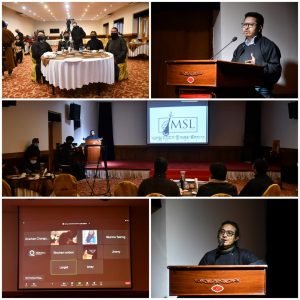 Leh, Jan 29: The Musical Society of Ladakh (MSL) organised a symbolic function to celebrate their first founding anniversary in Leh today. The Executive Councillor for Art & Culture, LAHDC Leh, Stanzin Chosphel presided over the event as the Chief Guest.
President, MSL briefed the gathering on the objective behind forming the society in Ladakh and stressed the need for expressing emotions, culture and identity through the art of music. He also expressed gratitude on behalf of the society to the Administration and the Hill Council for their continuous support and assistance in recognising and empowering their talents.
In his address, EC Chosphel highlighted that we need to explore our talents within us and they should be expressed in any form of art in our day to day lives. He further added that the present government is investing in enhancing and nurturing the raw talents and encouraging all forms of art and artisans in the region. He also assured to discuss and address the demands raised before him by the members of the society.
EC Art & Culture, Stanzin Chosphel along with other guests also launched the official website of the Musical Society of Ladakh. A virtual cultural programme was also conducted and special mementoes were presented to the supporters and well-wishers of the society during the occasion.
Among present on the occasion were, Advisor to Musical Society of Ladakh, Tsering Angchuk (Ralam) and the members of the Musical Society of Ladakh.