MP Namgyal convenes DISHA meeting in Kargil 'All educational, health institutions to be electrified by June end'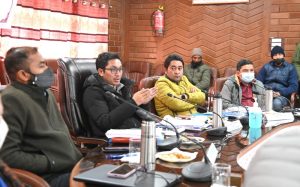 KARGIL, FEBRUARY 21, 2022: MP Ladakh, Jamyang Tsering Namgyal, who is also the Chairman, DISHA today chaired a meeting of the District Development Coordination and Monitoring Committee (DDMC) to review the progress on implementation of various Centrally Sponsored Schemes in Kargil district.
Namgyal reviewed sector and department-wise physical and financial progress on various developmental works being executed under various Centrally Sponsored Schemes (CSS) and UT-based schemes.
He inquired about various sectors of the district including PM Gramin Sadak Yojana, Pradhan Mantri Krishi Sinchayee Yojana (PMKSY), Accelerated Irrigation Benefits Programme (AIBP), Jal Jeevan Mission (JJM), Pradhan Mantri Khanij Kshetra Kalyan Yojana (PMKKKY), National Health Mission (NHM), and PM Fasal Bima Yojna (PMFBY).
Namgyal reviewed the financial and physical achievements of all the centrally sponsored schemes under implementation by various executing agencies in the district.
The major heads discussed in the meeting are Central Road Funds, PMGSY projects, Atal Mission Rejuvenation Urban Transformation (AMRUT), JJM, Rural Development and Panchayati Raj, Urban Development, Education, Health, Social Welfare, Integrated Child Development Scheme, Deen Dayal Upadhyay Gramin Jyoti Yojna, Agriculture, Horticulture, and Pradhan Mantri Ujjwala Yojana.
The Chairman DISHA instructed the concerned officers of the education and health department to electrify the institutions under them in coordination with the Power Development Department (PDD).
Namgyal instructed the concerned officers to execute JJM projects and ensure it is functional in the winter season. He further enquired about the experience of JJM projects in winter season.
The Chairman further instructed the concerned officer to submit a report of all functional and non-functional public toilets in the district.
While discussing the Mid-Day Meal Scheme of the Education Department, he instructed to make the food suitable as per local topography and give preference to the ethnic foods.
Namgyal further instructed the concerned department to identify the Heritage City Development and Augmentation Yojana and ensure its implementation in the district.
The MP further instructed officers to identify other schemes that are non-functional in the district to implement them in the interest of the general public.
During the meeting, District Officers appraised him and other members on progress made in different projects. CMO Kargil informed that six trained Amchis have been hired on need basis under Covid-19 emergency.