MP Ladakh visits Zerthang construction site to monitor progress for His Holiness' upcoming Teaching.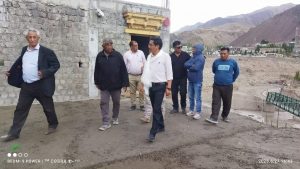 Leh, June 27: In preparation for the teaching by His Holiness scheduled for August, the Member of Parliament (MP) paid a visit to a construction site in Zerthang, Khaltse to evaluate the progress of ongoing work. He meticulously inspected the construction site to ensure the project remained on track to meet the upcoming deadline.
MP Ladakh was accompanied by Councillor, Khaltse, Lobzang Sherap; SDM Khaltse, Suhail Ahmad; Sarpanch; contractors; LBA members, and officials from concerned department.