MP Ladakh visits SNM Hospital to take stock of Covid-19 arrangement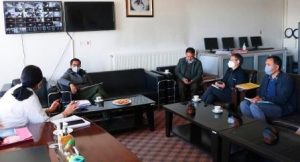 Leh, April 24: Member of Parliament (MP), Ladakh, Jamyang Tsering Namgyal, today visited the SNM Hospital to take stock of the Covid-19 arrangements.
The concerned staff apprised MP Ladakh of the arrangements and preparations in the wake of the surge in Covid-19 cases in the district.
Chief Medical Officer and Medical Superintendent apprised the MP of the Covid-19 situation. They shared MP Ladakh about the new covid dedicated wing at the hospital. They also informed the MP about the challenges such as shortage of human resource and essential medicines, including Remdesivir, oxygen cylinders and concentrators and beds. They said that there could be a shortage of these facilities if the Covid-19 infection cases continue to increase, especially if the proposed Ladakh Heart Foundation is operated as a Covid dedicated hospital.
The concerned officials apprised MP Ladakh of the increasing liabilities and unavailability of funds that could impede the smooth functioning of the hospital. They also highlighted their needs, including ambulances, hearse van, facilities for infected doctors and medical staffs, kitchen for Covid-19 patients to provide a nutritious diet.
MP Ladakh also listened to the grievances of the dental surgeons and paramedics on incentives issues, contractual nurses and male nursing orderlies on their deferred salaries.
MP JTN assured that he would provide the necessary assistance in his capacity.
Chief Medical Officer, Leh; Medical Superintendent; Assistant Commissioner Revenue; Drug Controller and Deputy Superintendent of Police, DR, DPL Leh attended the meeting.