MP Ladakh inaugurates two Jio mobile towers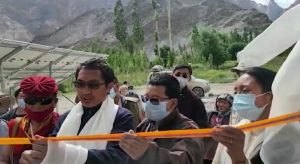 Leh, July 15: Member of Parliament, Ladakh, Jamyang Tsering Namgyal, today inaugurated two Jio mobile towers at Saspotse and Chilling villages. He dedicated the towers to the public.
MP Jamyang Tsering Namgyal expressed gratitude to the Jio representatives for connecting these villages with the digital network. He also congratulated the villagers. He shared that the students would now be able to attend online classes and minimise the academic loss suffered due to the Covid-19 pandemic.
Chairperson, Block Development Council, Saspol; Councillor, Skyu Markha constituency; General Manager, Reliance Jio, Ladakh circle were also present during the inauguration.