MP Ladakh inaugurates irrigation canal project at Brakdongthang Bodh Kharbu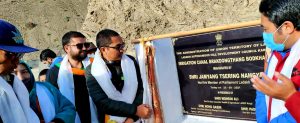 KARGIL, SEPTEMBER 26, 2021: Member Parliament (MP) Ladakh Jamyang Tsering Namgyal on Saturday inaugurated a 5 km long irrigation canal at Brakdongthang Bodh Kharbu.
The project completed at a cost of Rs 6 crore 10 lakhs under Languishing Project will irrigate 2171 canals of land and benefit 122 farmer households at Bodh Kharbu and Henaskot villages.
Executive Councillor for Agriculture Moshin Ali, Councillor Khangral Haji Muhammad Qasim, Nominated Councilors Leela Banoo, Zainab Bee and Padma Dorjay, SDM Shakar Chiktan Muhammad Sharif Kakpori, Executive Engineer I&FC Kargil Muhammad Hassan besides other concerned officers were present on the occasion.
Speaking on the occasion, the MP Ladakh said the developmental works in Ladakh region have accelerated during the tenure of the present government the results of which can be seen on ground.