MP Ladakh inaugurates 4 Jio mobile towers at Phoo, Yokma Kharboo, Karit and Tacha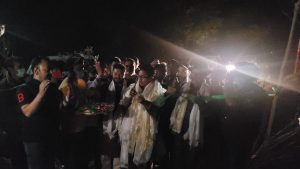 KARGIL, JULY 28, 2021: Member Parliament (MP) Ladakh Jamyang Tsering Namgyal inaugurated 4 Jio mobile towers and dedicated them to the public at Phoo, Yokma Kharboo, Karith and Tacha villages under the Universal Service Obligation Fund (USOF) here on Tuesday evening.
Former Executive Councilor and Councilor Shargole Muhammad Ali Chandan and other public representatives, PRI members of the area, officers of Jio besides other concerned officers were present on the occasion.
The public representatives of the area appraised the MP Ladakh about various issues concerning their developmental needs which included demand for installation of more mobile towers in the area and other related issues.
Interacting with the locals, the MP informed that 63 towers have been sanctioned all over Ladakh, out of which 25 have already been completed while another 15 are under the process of installation.
MP Jamyang Tsering Namgyal gave a patient listening to the demands and concerns projected by the locals and assured them that all requisite measures will be taken for fulfillment in a phased manner.
Earlier, the villagers accorded warm traditional welcome to all the MP Ladakh expressed gratitude to the MP for his tireless effort in establishing much-needed 4G mobile towers in the remotest villages areas of Kargil District.