MP Ladakh highlights need for preserving buckwheat in Ladakh The chief guest was speaking on concluding day of 1st Buckwheat Flower Festival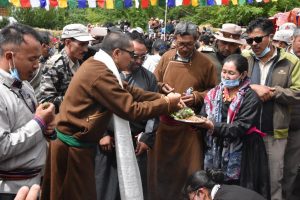 Leh, Sep 12: The 1st Buckwheat Flower Festival organised by the UT Administration Ladakh in collaboration with Skitchan Kunfun Deton Tsogspa Skurbuchan concluded at Skurbuchan village today. Member of Parliament, Ladakh, Jamyang Tsering Namgyal, was the chief guest during the concluding day.
Highlighting the importance of buckwheat and its value, MP Ladakh stressed the need for preserving the high-value crop in the Sham region. MP Ladakh stated that he has taken up the need for experts, packaging, exporting, marketing and making various by-products out of buckwheat with the Centre. He also emphasised the need for a primary process unit for packaging and making a variety of products from buckwheat in the region.
MP Ladakh also promised to organise the Buckwheat Flower Festival in a grand way next year and appreciated Skitchan Kundun Deton Tsogspa Skurbuchan for their assistance in organising the event.
Speaking on the occasion, Associate Director (R&E) HMAARI, Leh, Dr Dorjay Namgyal, highlighted the importance of buckwheat as a high-value crop with nutritional and medicinal qualities. He also spoke about the Front-Line Demonstration (FLD) scheme and urged farmers to avail of the benefits of such schemes.
Similarly, Sub-divisional Agricultural Officer (SDAO), Leh, Shakeel-ur-Rehman, spoke on the need for protecting buckwheat in the region due to its value as one of the healthiest foods in the world.
Block Development Council (BDC) Chairman, Skurbuchan, Tashi Yangskit; Councillor, Skurbuchan, Lundup Dorjai; Chief Horticulture Officer, Leh, Tsewang Phuntsog, officials from SKUAST-KVK Leh, district officials, village representatives and villagers were present during the occasion.