MP Ladakh calls on cabinet minister Ashwini Vaishnaw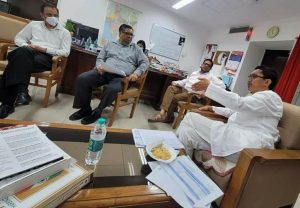 Leh, July 24: Member of Parliament, Ladakh, Jamyang Tsering Namgyal called on Minister for Communication, GoI, Ashwini Vaishnaw, regarding Universal Service Obligation Fund (USOF), at Sanchar Bhavan, New Delhi today. The meeting was held as a follow up to a previous meeting regarding the same.
In the meeting, various issues related to the installation of already sanctioned 63 Jio towers for UT Ladakh under USOF of Department of Telecommunication, Ministry of Communication, GoI were discussed. MP Ladakh apprised that out of the 63 sanctioned towers, 25 are already on air/ functioning, 15 are under construction and for the remaining 23 towers the work is yet to begin.
MP Ladakh also submitted a proposal for sanctioning of new towers under USOF containing the details of villages, hamlets and sites. Several decisions were made to provide fair and sufficient network coverage in the whole of Ladakh via USOF at the earliest.
The meeting was chaired by the Administrator of USOF, Aishuli Arya (IAS). Senior officials of USOF; President, Reliance Retail, Ravi Gandhi with his team and other concerned officials were present during the meeting.